Stories from GMHBA people
Learn about how a job with GMHBA doesn't mean the same work forever. You can move departments and as your career ambitions grow, GMHBA opportunities grow with you.
Career progressions: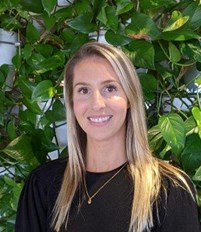 What interested you about studying the Health Science degree?
In VCE my two main interests were Legal studies and Health, but a Bachelor of Health Sciences was a great degree to further my interests. I majored in Public Health and ran many health programs whilst at Uni. I then completed further studies at Deakin University in Health Promotion and Nutrition. Both Universities provided wonderful courses, with incredible staff that encouraged me to continue in the health industry.
Why did you apply for your first role at GMHBA?
Whilst completing my studies I worked in many different health practices, including Physiotherapy and General Practice and became a group exercise instructor teaching Body attack classes at local gyms. I also completed work experience at Women's Health magazine and loved every minute of it! After a few years of working in small health practices, I was ready to see what working in a larger organisation was like. A role was advertised for a Customer Service role at GMHBA and despite the role not being directly related to my degrees, I was keen to try something new and understand the organisation. After my initial interview, I received a call saying a different role was available and more suited to my qualifications, an administration role within the Diversification team. The role was part of a newly formed team at GMHBA, with the aim of diversifying the business to become a health services provider. The team lead GMHBA to successfully provide Dental, Eye Care, General Practice and Physiotherapy. It was an exciting time for GMHBA and I loved being part of such an innovative and diverse team. My experience and degree were frequently used in this role and I loved learning about the acquisition of health practices.
What were your next roles?
After being in the diversification team, I spent time in the Facilities team further understanding the project management side of the business. I then moved into the Strategy and Risk department as a Business Analyst where I was able to learn an incredible amount through working with so many departments in the business. I loved understanding how an organisation builds their strategy and the many different ways an organisation can operate to deliver an outcome. It was in this position that I was able to start exploring Value Based Health Care for GMHBA. I loved looking at all the different ways GMHBA provides Health value and created an ongoing paper for the Health Services Committee, highlighting the health value GMHBA delivers to its' members and the community. I then moved into the role of Project Manager, leading a team of subject matter experts to deliver specific pieces of work.
Each role I have been in at GMHBA has allowed me to understand different parts of the business, build relationships, learn from incredible mentors and to be able to develop different skills needed for my current role as Project Manager.
You do you do in your current role?
For GMHBA to deliver on its' strategy, certain pieces of work need to be delivered. When the work requires specific subject matter experts and will take a certain amount of time, a project manager is needed to ensure the project runs smoothly and delivers the expected outcome(s). As a project manager, I ensure project documentation is completed, including a project timeline and tracking of resources. I lead project meetings to ensure each project resource is clear on the work that needs to be done, understand if there are any risks or issues that could impact the project and to track how the project is progressing. Project management is incredibly important at GMHBA. There are many subject matter experts that are amazing at what they do, the project manager ensures the work being done is in line with the intended aim of the project and to help minimise any blockers or hurdles.
What do you enjoy about your current role?
I love working with different people from around the organisation and learning each and every day.
We are so lucky to have an incredible private health system in Australia and to have options when navigating our health journeys. When a member or customer calls GMHBA, sometimes they need to navigate the health system that they may not be familiar with. When I hear that GMHBA have been able to guide that person to manage or improve their health, I know I am working in the right company. GMHBA cares for our staff and our customers, and that makes me a loyal staff member.
How has your degree been useful in the various roles that you've undertaken at GMHBA?
The role of business analyst has always allowed me to use my health sciences degrees. Articulating the different populations that require health services based on their demographics was very useful when looking at potential locations for health practices. Measuring health value and documenting the health outcomes from the many programs and services GMHBA offer was possible due to my University learnings.
3 pieces of advice for Graduates?
Be open to any role within an organisation like GMHBA. There is so much to learn and you will never regret having the experience.
Ask questions and put your hand up for things that interest you. It's up to you how much you get out of your experience.
If successful, have lunch or coffee with your new colleagues, the more people you can meet the better.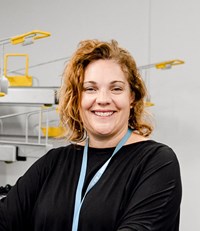 Where did you grow up and study?
I grew up in Geelong and had no idea what I wanted to do at the end of year 12, other than continuing to study. I did the tours of the local universities and decided to enrol in a Bachelor of Business at Victoria University following a really positive interaction with one of their Lecturers!
Tell us about your career journey so far.
While at Uni, I worked part time at Target in Westfield. I was offered a part time Trainee Operations Manager role, which I jumped at. There was a large HR component to this role, that I really enjoyed. When I finished my degree, I was offered a full time Operations Manager role, and stayed in this role for a few years before joining GMHBA as an HR Officer – and the rest, as they say, is history!
I have been lucky enough to have a lot of variety in roles during my time at GMHBA, such as HR Officer, Change Manager, Business Partnering, Talent Acquisition, Project Management and an OD specialist.
My first role as HR Officer was a great way to learn the ropes, and I got to experience a little bit of everything! At the time, GMHBA had less than 100 employees, and my role included things like training new starters, end to end recruitment (back then, people still physically sent in hard copies of their resumes via mail!) and Occupational Health and Safety. I got to learn from some amazing mentors, while I learnt about the business, and the HR processes and procedures.
I recently became Head of Organisational Development (OD). Our team purpose is 'Creating a remarkable workplace that attracts, develops and engages people to thrive.' Some of the things that the OD team work on are: Diversity, Equity and Inclusion, Early Careers, Mental Health and Wellbeing, Performance Lifecyle, and Leadership Development.
A really big part of my role as Head of OD is leadership – which means helping others to achieve their goals. A typical day might involve catching up with my team of five specialists to understand what they are working on, and what barriers they might be experiencing. I might also meet with the Senior Leaders from across the business, to understand how the Organisational Development team might support them to achieve their goals. Data is also a big component, things like budgets, and report writing are really important.
What is great about your role?
I have stayed so long at GMHBA because of the people – we have an incredible talented, supportive, and fun group of people here! I also connect with the Values, and align with our purpose statement 'to support and empower our communities to live healthier lives.'
Advice for Graduates:
Ask questions. A really important part of learning and growth! It is completely natural to feel unsure when you start a new role, asking questions will get you answers, and it will help to build relationships with others. Everyone has been the 'new person' and will be more than willing to help!
Start with 'yes'. Basically, this means that instead of immediately saying 'no' or being negative, you try to approach situations with a more positive attitude. For example, if someone asks you to take on a project that you're not sure you can handle, instead of saying 'no way, that's too hard', you could say' yes, I'll give it a go, and see how it turns out.' By starting with 'yes' you're more open to new experiences and opportunities, and you're less likely to limit yourself with negative thinking.
Invest time in relationships! It will make your work environment so much more enjoyable. When you get on well with your colleagues, work becomes less of a chore, more of a laugh, stress is reduced and job satisfaction improves. So go ahead and invest in relationships!
Day in the life:
5:30 AM
Tuesday morning force myself out of bed to quickly shower, get ready and jump in my car and head off at around 6am into the office. I work in the office on Monday, Tuesday, and Thursday.
7:30 AM
I usually give myself an hour and a half to drive, find a park and walk to the office. The moment I walk into the office I go to my locker, grab my keyboard, mouse and mug and find a desk, I have a couple of favourite hot desks that I prefer to sit at, each have their own positives like having a wall next to me or at the end of a row. I go and prepare my breakfast in the office kitchen and sit down to have breakfast.
While having breakfast I will log online to check any emails or MS teams messages that have come through after I had finished the previous day, GMHBA has great flexibility in allowing employees to start and finish at different times depending on our needs.
This is usually the perfect time for me to get my bearings on if there are any urgent requests that need to be added to my days' plans or if they can be added to my to-do list. In my role requests can be anything from basic clarification on models that I have been working on, outputs/charts that are needed for certain meetings, to long term requests such as updating models based on the most up to date data available.
8:00 AM
Early mornings are where I like to get some of my more technical work done, many of the other employees coming into the office are just starting to arrive and I don't usually have meetings set for the morning.
Currently I am working on the forecasting model to compare the previous forecasts to the current forecast which includes more up to date data. The results from this will be directly distributed to the Head of Finance and the CFO as the basis for discussion in future meetings.
Most of the modelling work is done using the programming software R, using machine learning models and previous data located in the data warehouse to give the most accurate predictions. I also use R to create reports from past data and forecasts output in slide decks or spreadsheets which get distributed to many different teams within the business.
9:00 AM
The finance crew usually goes out to grab a coffee for whoever wants one, can be a large or small group but it's a great way to connect with colleagues early in the morning.
Tuesdays are great days for collaboration, it's one of the days where you get the most people in the office at the same time and can collaborate in person, as opposed to over MS teams, which I certainly prefer. The mood is always upbeat here - someone is always up for a chat and the open layout of the office doesn't restrict any communication between staff.
10:00 AM
I presented some lapse analysis I had recently completed with colleagues from the retention team, having these open discussions/meetings have been great for me to gain different points of view from within the business to further improve my work.
12:00 PM
Lunch time, time to get out and stretch the legs and go and grab a bite to eat, I'm usually not that well organised to have brought my lunch along with me so will often head across the road to the local Westfield and grab something from in there, certainly not short of options!
2:00 PM
Weekly catch-up with my manager Brian, it's a great opportunity to catch up on the work we've been doing, bounce ideas off each other, and generally check-in on how everything is going. I often like to use this as a chance to get feedback on any presentations that I am doing to improve the quality of work.
3:00 PM
I now have time in my day to extract and provide some data for a couple of different people using SQL and R. These outputs, in the form of spreadsheets, are used by retention and ARC staff as part of their retention strategies.
Following this I have been asked to prepare some extra outputs on the comparison between the previous forecasts and the new updated forecast. All the code for these tables is computed in R and saved as an excel spreadsheet and sent out to colleagues.
4:30 PM
Time to head home, clean up the desk, pack my bag and place any things I don't need to take to WFH in my locker ready for the next time I come in. The long drive home is nice way to de-stress from the day's work before getting home.
7:30 AM
I force myself out of my bed and over my cats. I try to prepare myself some breakfast and after I'll head out for a walk just to breathe the fresh air. Sometimes I will head to the local coffee shop to grab a coffee and say hello to everyone.
8:30 AM
I log online and check the task board of my team to figure out my work schedule for the day. I'll check the inbox to see if there are any urgent emails that I need to deal with. My calendar is not always full, but when it gets heavy, I'll try to prepare myself mentally and physically for the various meetings and tasks.
9:30 AM
Monday mornings are kept free so I can meet with my team, during the meeting we'll go through our task boards to see what we're working on. This meeting is a great chance for our team leaders to check in on each team member's progress. Since I'm new to the Private Health Insurance (PHI) industry it's a great opportunity for me to listen and discuss different aspects of the job and consolidate information.
11:00 AM
After the team meeting, we all go back to our specific roles. The first thing I want to do after a team meeting is sort my emails, so I get right to that.
12:00 AM
Time for lunch! I try to be consistent with when I grab some food but occasionally I get on a roll with my work. Since today I'm at home, I get to enjoy watching a bit of tv; Korean shows are a personal fave.
1:00 PM
Today I have a meeting with the Business Intelligence (BI) Manager. He's also my mentor, so it's a great opportunity for me to ask for his advice on the code and input on the logic that I created. The meeting goes really well, as it often does. These catchups with my mentor also give me time to learn more about the career progression I might be able to work towards as well as ask any questions that may be sitting on my mind.
1:30 AM
A big part of my role is coding which means I'll generally have a couple of hours of solid coding time each day. Today, I've got multiple tasks which all need to move forward together. Having multiple projects going gives me the chance to jump from one to the other if I get stuck on a problem. Most of the time I'm coding to create new data or check the existing data in the data warehouse, which means I create fund-owned rules for existing data to better assist the benefits management team and maybe assist other teams in the future.
Having the option to jump between tasks lets me freshen my head and balance the tasks. Since there's so much room for growth in coding, I'll often have some time where I try to learn a little something new that I can apply to my work – I'll usually check out stackoverflow (a coding website) when I want some inspiration.
When I really get going with my work, I'll sometimes have the time slip away – it's almost like meditation for me.
3:00 PM
Sometimes I get a bit stuck with PHI terms (there can be so many industry-specific words)! But, whenever this happens it's not much of a problem; I'll reach out to one of my colleagues, jump in a call, and sort out the details easily. At the moment I'm working on a set of Out-of-pocket calculator rules, where out-of-pocket means members pay besides fund benefits and Medicare benefits. I use a variety of tools for my work ranging from VS code and Microsoft SQL servers to SQL and python as the coding languages.
4:30 PM
Finishing up for the day! I feel like today was a success - fairly productive and I learnt some new things. Before I close my laptop for the day, I'll double check my calendar to give myself a heads up about what may happen tomorrow. I'm off to enjoy my afternoon and play with my cats.