If it's cold outside and all you feel like doing is binge-watching Netflix or watching the Cats progress up the AFL ladder from the comfort of your couch, it doesn't have to be an unhealthy experience.
Great Health has rounded up ideas to make couch-surfing healthier.
Take a break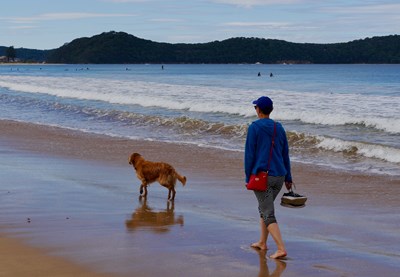 Build in time to move by pausing the television every hour to take a break from the screen – whether it's a walk around the block with your dog or doing a quick chore, such as putting the washing on the line.
Alternatively, integrate exercise into the screen-time by grabbing a set of dumbbells for intermittent weight training or doing an ad break challenge – such as trying to hold a plank position or doing as many burpees as you can during the time.
If you're feeling less energetic, take time out to do stretching exercises, such as downward dog yoga poses or neck and shoulder work.
Healthier snacking
Ditch the couch-potato lifestyle choices and keep carrot, cucumber and celery sticks in the fridge to go with a healthy dip, such as guacamole or eggplant-based recipes. Add in healthy greens, such as broccoli powder or LSA to increase the nutrition and try unusual combinations, such as edamame or beetroot hummus, for variety.
Prepare raw energy balls and popcorn-based trail mixes with dried fruit and nuts, roasted chickpeas, or create a healthy fruit platter on the coffee table to nibble on as you watch the screen.
Healthier pizzas, such as those topped with vegetables or made with cauliflower pizza bases, or vegetable-loaded nachos, let you indulge in a TV dinner, without the guilt.
Chia puddings, yoghurt topped with seeds, nuts and fruit, or vegetable mini-muffins are some of the other options to consider.
Smoothies, chilled water with vegetable and fruit slices or freshly-squeezed lemon and carbonated water make a change from sugary soft drinks.
Forget the guilt
Rest and recovery is an important part of a healthy lifestyle. If you're planning to spend hours on the couch, work it into your day by doing a high-energy activity just prior, such as a long run or gym session. This will help you resist reaching for the bag of crisps or glass of wine and will be a useful way to let your muscles recover.
If you enjoy time on the couch, remember it can be an important way to let your mind take a break from the worries of the day-to-day and take you into another world – so don't feel guilty about taking the time-out. As with everything – moderation is key.
First published in GT Magazine as part of a GMHBA content sponsorship