Published 09 Nov 2023
Dentist, Oral Health Therapist, Dental Hygienist; if you've ever wondered what the difference is between these dedicated dental health practitioners and when you should visit one over the other, read on! We've sat down with our experienced Oral Health Therapist Krystal Haggerty at the GMHBA Hub, Belmont to understand more about her profession and the important role that an Oral Health Therapist plays in managing our oral health.
What is an Oral Health Therapist?
An Oral Health Therapist (OHT) is a degree-qualified and registered dental practitioner that specialises in both Dental Hygiene and Dental Therapy. In addition to providing professional teeth cleaning services and oral health education – services traditionally offered by a Dental Hygienist – an OHT can perform fillings and extractions and provide ongoing preventative dental care and treatment.
What are the key differences between an Oral Health Therapist and dentist?
An OHT performs many of the same services as a dentist and is considered as a complementary dental health practitioner. Both OHTs and dentists are registered with the Australian Health Practitioners Registration Association (AHPRA). OHTs have completed three years of undergraduate study, while dentists have completed five and are therefore qualified to perform more complex procedures, diagnoses and referrals. In most cases, such as a routine check-up, an OHT will be fully qualified to provide the same dental hygiene services and perform the same standard dental procedures as a dentist.
Common services and procedures generally performed by the following Dental Care professionals: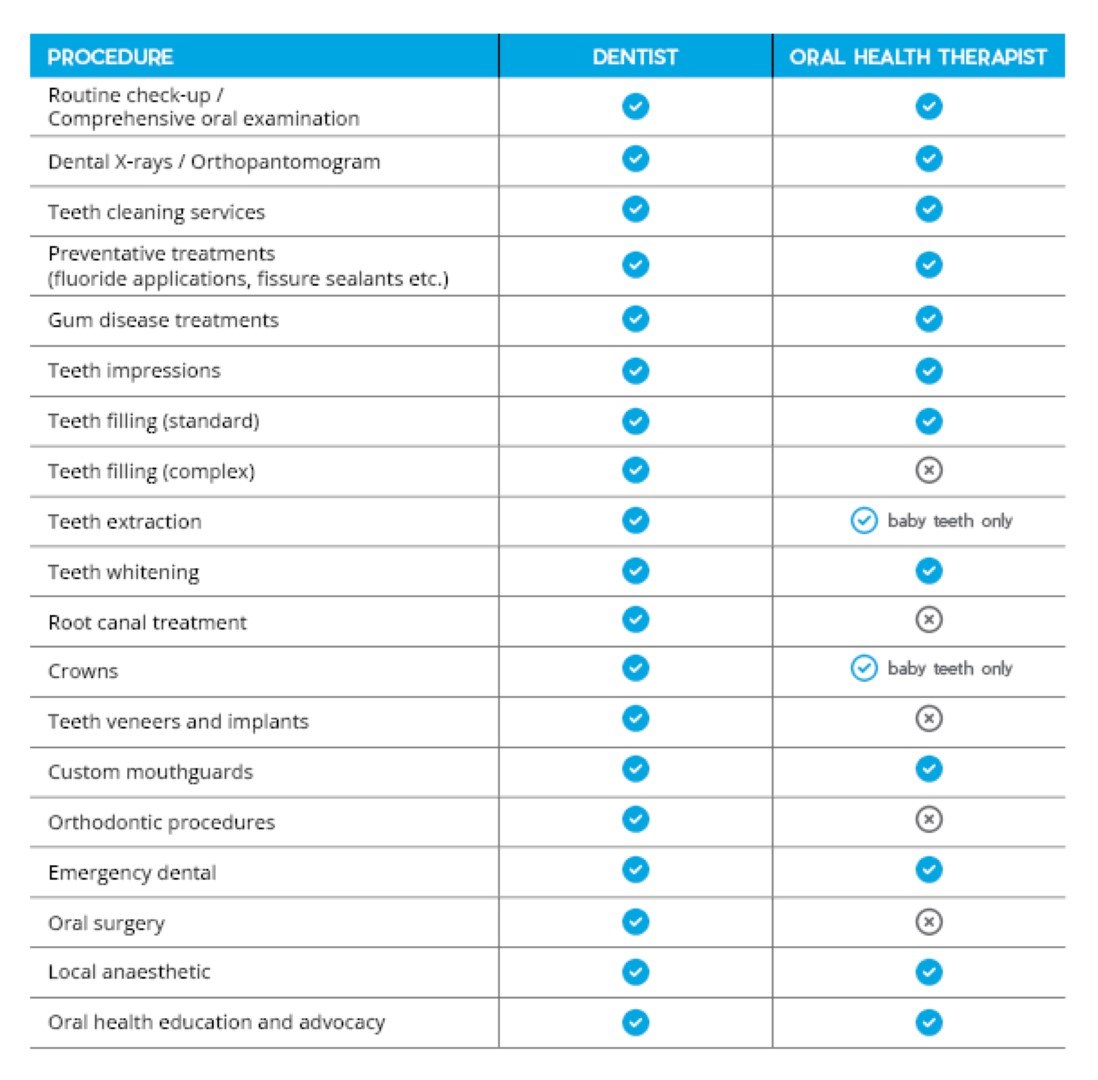 Do I still need see my regular dentist?
OHTs are independent dental clinicians who work in collaboration with the dentist and other dental specialists to provide optimal care to patients. The primary focus of the OHT is on routine hygiene, preventative dental care and oral health education. A dentist will be required for more complex dental procedures such as root canals, implants, orthodontics and oral surgery and to make referrals to other specialists if needed.
How do I know whether to book an appointment with an OHT or a dentist?
There are several factors that may influence your decision to make an appointment with an OHT or a dentist.
Purpose of your visit: If you're booking in for a routine dental check-up, chances are that an OHT will be able to provide the same level of required care as a dentist.
Age: OHTs have a special focus on providing dental hygiene and therapy services for children up to the age of 18. An OHT will still perform basic dental procedures for adult patients, including comprehensive oral examinations and professional teeth-cleaning, and make referrals to a dentist if more complex work is required at a follow-up appointment.
Availability: Depending on the type of care that you are seeking, it may be possible to book an earlier appointment with an OHT.
If in doubt, contact GMHBA Hub Belmont or your dental provider to discuss your needs and determine the most appropriate dental care member for your next appointment.
Your dental care team can also advise how regularly you should be booking in for a check-up to maintain a preventative care approach and help stay on top of your oral health. Read more about the importance of regular dental check-ups and our top teeth tips for good oral health.
Krystal Haggerty is an Oral Health Therapist at GMHBA Hub, Belmont. After completing a Bachelor of Oral Health at Charles Sturt University in 2018, Krystal extended her working scope in 2020 to include dental hygiene treatment and dental therapy for all ages. Krystal prides herself on providing excellent care with a gentle approach to achieve lasting patient rapport.
$199 welcome offer* for an initial dental check-up, x-ray and clean.
Exclusive to GMHBA Hub, Belmont
*Includes item numbers (where clinically necessary), examination (011), X-rays (022 x 2 ), Oral clean (item 111, 114 ) and fluoride treatment( 121). Offer cannot be used in conjunction with any other GMHBA Hub Belmont Dental Care offer. The welcome offer is available to new patients of the GMHBA Hub Belmont dental practice only. Your dentist or oral health therapist will evaluate your teeth at the time of your appointment as to whether the treatment included in this offer is suitable for you. Clinical indications may necessitate deferral or additional treatments which will be communicated at the time of this appointment including treatment details and rates.