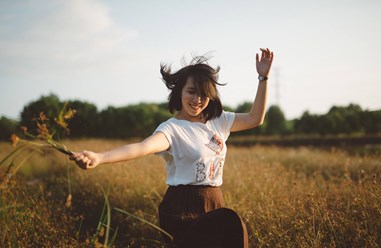 You might not think that shaking your 'groove thing' would be classified as a workout, but lucky for you the evidence shows quite the contrary – a boogie on the d-floor is great for getting your foot tapping and your heart beating.
From boot scooting to belly dancing, it doesn't matter what technique you're partial to, if it gets your feet moving it'll burn calories and help increase your cardio health. On top of any physical benefits you might see from shaking your tail feather, social dancing is also a great way to meet new people, learn new tricks and improve your general mental fitness.

Now of course, when you're cutting a rug, the number of calories burnt will vary depending on your height, weight and level of enthusiasm, but rest assured, any steps you do take will be steps in the right direction. Even a 10 minute dance around your house can burn up to 50 calories[1]!
Here's a handy list of some of the more popular social dance forms to get you started.
Ballroom Dancing
A great social dance, ballroom dancing can be traced as far back as the 16th century and is now enjoyed both socially and competitively around the world. Great for couples and singles alike, ballroom dancing can be a great low-impact cardio exercise and you'll have a ball at the same time. Even at a slow pace, ballroom dancing can burn over 200 calories an hour[2]!
Swing
Swing dancing was born out of the jazz-era dance halls of the 1920-1940s. The dance itself is usually done as a couple and incorporates fancy footwork, twists and twirls and hops and bops. Modern swing dancing ranges in pace and simplicity to help cater for its growing fan base – making it a great dance for beginners. If you think jitterbugging all night could be up your alley, there's 300-550 calories up for grab every hour, so hop to it!
Hip Hop
Hip Hop dancing is an energetic solo or group dance form that grew with the rise of hip hop music in the 1970s. Beginning as a mainly improvisational dance with elements such as breaking, locking and popping, today's 'new style' hip hop dance has evolved to incorporate a broader array of moves and styles. Hip hop dancing is athletic and fun with choreographed classes being a great introduction for beginners. As an exercise, hip hop involves the whole body, so it can burn anywhere between 370-610 calories in an hour.
Salsa
Although Salsa has its origins in similar Latin American dances, it actually originated in New York in the 1970s. Being heavily influenced by Cuban dances such as the Mambo, Cuban Son and Cha-Cha, Salsa sees the dancers shifting their weight between steps and hip movements while leaving their upper body still. Great for bringing out your more flamboyant side, Salsa is no walk in the park, and can burn up to 400 calories an hour!
Zumba
Zumba is a popular fitness program based around a multitude of popular dances. Created in the 1990s by choreographer Alberto Perez, Zumba can now be found in gyms and health clubs around the world. Incorporating elements of hip-hop, samba, salsa and mambo to name a few, Zumba is the perfect example of how you can dance yourself fit in a safe and fun environment. An hour class of Zumba can help to burn anywhere between 350-650 calories[3]!
No Lights No Lycra
Think you're missing the coordination or skills for organised dance? No Lights No Lycra was formed on the idea that you don't need to know steps or techniques to enjoy the freedom of dance and self-expression. In the darkness, dressed however you want, you can be as silly and creative as you want, or simply sway to the music.
Scottish Country Dancing
You don't need to be a Scot to enjoy the fitness benefits of Scottish Country Dancing (SCD), better yet men can leave the kilts at home. Traditionally recognised for its jigs, reels (fast) and strathspeys (slow) the ballroom dancing of Scotland is suitable for men, women and children of all ages. Whether you're flying solo or bringing along a friend SCD brings together all skill levels of dance while improving fitness at the same time. With over 100 SCD groups around Australia, there is likely to be a group near you.
Pole Dancing
Modern pole dancing is a booming fitness industry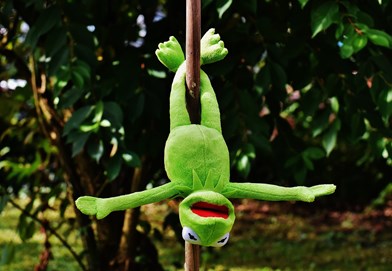 with more in common with gymnastics than its namesake. Pole dancing studios and classes are popping up everywhere as this competitive dance sport is seen more and more for its cardio and strength health benefits – burning between 200-400 calories over a class. From simple beginners' classes to professional competition, Pole Dancing caters for wide range of fitness levels.
Xtend Barre
Xtend Barre is a dance that incorporates dance, ballet and Pilates to create a full-body workout. 'Barre' refers to the support handrail (think of a ballet warm up) used throughout the class while the Pilates elements of Xtend Barre mean that you'll also be strengthening your core as well as working up your cardio. These unique workouts can burn up to 650 calories per class.
Whatever your fitness or coordination levels are, there's a dance out there for everyone. So get some ants in your pants and dance yourself fit today!
[1] Based on a 70kg person, dancing for 10 minutes. Estimate for yourself at myfitnesspal.com/exercise/lookup
[2] Based on a 70kg person dancing for 60 minutes. Estimate for yourself at myfitnesspal.com/exercise/lookup
[3] Based on a 70kg person dancing Zumba for 60 minutes. Estimate for yourself at myfitnesspal.com/exercise/lookup
---
Do you currently dance yourself fit?