One in eight Australian men will experience depression in their lifetime, and one in five will experience anxiety. A website developed by beyondblue is helping men to feel more comfortable about seeking support as Annabelle Richmond discovered.
While men are less likely to experience depression and anxiety than females, according to beyondblue, they are three times more likely to die by suicide than women. Evidence indicates men are far less likely to seek help for mental health conditions than women, and the numbers of men completing a mental health quiz on the Man Therapy website shows beyondblue's work is changing attitudes.
New figures reveal an estimated 43 per cent of Australian men have seen beyondblue's important mental health message delivered by irreverent character Dr Brian Ironwood, host of the Man Therapy website. One year since the launch of the Australian-first campaign, beyondblue has made extraordinary progress, reaching almost 3.5 million men (or 43 per cent of Australian men aged 18 and older) through national media, according to an evaluation by the Ipsos Social Research Institute.
Beyondblue Chairman Jeff Kennett AC said it was encouraging so many men had seen and embraced the campaign. "It is fantastic that so many men have seen Dr Brian Ironwood during TV sports coverage and responded so well to the very important mental health message he delivers," he said.
"Australian men don't like to talk about their feelings, but the Man Therapy website has struck a chord with more than half a million men spurred on to visit the website and get information. Dr Ironwood's delivery is obviously hitting the mark because almost a third have done the mental health quiz and are genuinely interested in getting more information on how to take care of their mental health" Mr Kennett remarked.
Of the men who have taken the mental health quiz on beyondblue's Man Therapy website, around two in five recorded some level of psychological distress. More than 90 percent of men who took part in the Man Therapy website user survey reported they had visited the site for themselves and around 60 percent visited to find more information about depression.
"This research shows that beyondblue has made great progress in reaching Aussie men with its message promoting good mental health," Mr Kennett said. "However, we have more work to do. I would like to see 100 per cent of Australians familiar with Dr Ironwood, his Man Therapy site and his 'blokey' messages, and I hope to see this happen during future phases of the campaign."
According to beyondblue, there is a lot that can be done to fix depression citing it as a highly treatable condition. The organisation notes that in most cases it can be improved with a combination of lifestyle changes, professional therapy and medication.
Depression - Signs and Symptoms
According to beyondblue, a person may be depressed if, for more than two weeks, he or she has felt sad, down or miserable most of the time or has lost interest or pleasure in usual activities, and has also experienced several of the signs and symptoms across at least three of the categories below.
It's important to note that everyone experiences some of these symptoms from time to time, and it may not necessarily mean a person is depressed. Equally, not every person who is experiencing depression will have all of these symptoms.
Behaviour
not going out anymore
not getting things done at work/school
withdrawing from close family and friends
relying on alcohol and sedatives
not doing usual enjoyable activities
unable to concentrate
Feelings
overwhelmed
guilty
irritable
frustrated
lacking in confidence
unhappy
indecisive
disappointed
miserable
sad
Thoughts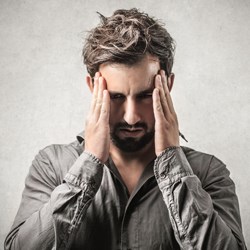 'I'm a failure.'
'It's my fault.'
'Nothing good ever happens to me.'
'I'm worthless.'
'Life's not worth living.'
'People would be better off without me.'
Physical
tired all the time
sick and run down
headaches and muscle pains
churning gut
sleep problems
loss or change of appetite
significant weight loss or gain
First Steps
It can be difficult for people with depression or anxiety to take that first step in getting help. They may need to enlist the support of family members, friends or a health professional when they begin their treatment.
Depression and anxiety can go on for months, sometimes years if left untreated and can have many negative effects on a person's life. It's important to seek help early – the sooner a person gets treatment, the sooner they can recover. Consult your GP as a first port of call for someone seeking professional help. Support services are also available via beyondblue.
Need support or information around depression and anxiety, for yourself, a friend or family member? Contact beyondblue support service 24/7 via 1300 22 4636 or visit beyondblue.org.au/getsupport for daily web chat (between 3pm–12am) and email (with a response provided within 24 hours).
For further information:
http://www.blackdoginstitute.org.au/