With the summer months and a flurry of parties, BBQ's and events before us, it can be a time when healthy eating goes out the window. Or, it can be a time when we focus on all the beautiful fresh seasonal ingredients right at our fingertips and find delicious ways to bring them into our meals. Given the heat of the summer, salads are such an easy way to eat light, energizing food that gives our bodies a hit of all the nutrients it needs to thrive. There are a few things I like to think about when building the ultimate salad…
Eat the colours of the rainbow
Look at your meals with the colours of the rainbow in mind. That is the stunning, natural colours from wholefoods served as close as they came from nature. When we think about eating throughout the day with an abundance of colour, we open up all the creative channels we have by incorporating them into meals, and this is where salads can take the stage. While a healthy green salad never goes astray, think about the other colours from fruits, vegetables, and spices and interesting ways to use them and your salad will shine.
Some ideas to get your salad grooving might be:
Creating zucchini or carrot 'zoodles' (a spiraliser or veggie peeler will help here)
Grating beetroot or sweet potato
Blitzing cauliflower or broccoli to create a 'rice' consistency
Adding (gluten free) grains such as quinoa, rice or buckwheat cooked with some extra spices and vegetables for flavor and colour
Using delicious fresh herbs
Slicing fresh fruit for a contrast of sweet to savoury flavours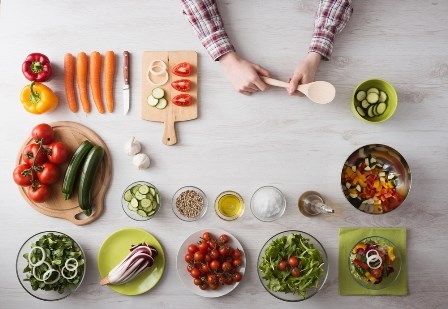 Protein
Protein is such an important element in our health for development and repair, maintaining mental focus, managing appetite and balancing the macronutrient equation (proteins, carbohydrates and fats) in our diet. And while there's often a component of protein that might accompany a salad, when you're making a stand-alone salad as a meal or a dish to take along to a BBQ then protein should always be considered in the mix. Be as creative as you can with it and look to plant combinations to power up the protein.
Pack a protein punch in your next salad with:
Lentils, chickpeas, kidney or butter beans
Pan fried tempeh
Combinations of nuts and seeds including linseeds, sesame, almonds and cashews
Protein-rich grains such as quinoa and buckwheat.
Carbohydrates
Our bodies need quality sources of carbohydrates for many vital functions and salads can offer these in generous amounts. Salads incorporating a variety of veggies, fruits and grains provide such a vast supply of phytochemicals, antioxidants, vitamins and minerals to support the integrity of our gut, to maintain an active immune system, feed energy to our brain and muscles, and indeed set our bodies up to work more efficiently.
To enrich a salad with heartier carbohydrates, consider including ingredients such as:
Roast sweet potato and pumpkin
Raw grated pumpkin or beetroot
Cooked grains such as basmati rice, quinoa, buckwheat and barley
Fats
Good fats are the ticket to long term health and longevity and are an important component of any salad equation and our diet overall. These good fats are what satiate our appetite and manage blood glucose levels, feed our bodies the right nutrients for healthy hormone synthesis, help our brains function and can give our skin that beautiful glow. While once it might have been a drizzle of olive oil and vinegar to finish the salad there are other great ways to incorporate healthy fats into your rainbow bowl.
Topping the list of tasty fats for good hearty salads:
Tahini combined with miso, tamari and a touch of sweet from maple or honey
Creamy (without the cream) coconut dressing with chili, spices and herbs
Full-fat ricotta, feta, pecorino or parmesan for fats with a dash of calcium too
Sliced avocado or whipped avocado with lemon or lime, black pepper and a touch of olive oil
Linseed, walnut or almond oil for a pleasant change to the olive norm
Nuts and seeds (walnuts, sesame, pine nuts, pepitas, sunflower seeds)
Salad offers up an opportunity to be more creative in the kitchen and incorporate so many wonderful, delicious and nourishing ingredients to enliven our bodies and enrich our health. Over to you now, what are you bringing to the table for the summer of salads?
Recipe
TURMERIC QUINOA PUMPKIN SALAD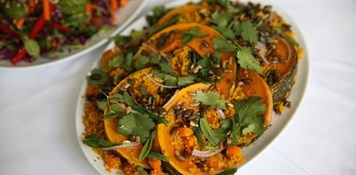 Serves 4 as part of a shared meal
600g jap pumpkin, skin removed, cut into wedges
1 tablespoon grapeseed oil
1/2 cup raw quinoa, rinsed
2 teaspoons dried turmeric
2 stalks celery, diced
2 stalks kale, leaves torn, stalks discarded
1/4 cup coriander leaves, picked
1/4 cup mint leaves, picked
1/2 small Spanish onion, finely sliced
2 tablespoons pepitas
1 pinch of sea salt and black pepper
Dressing:
1 teaspoon dried cumin
3 tablespoons olive oil
1 tablespoon lemon juice
Preheat oven to 180C and line a large baking tray with greaseproof paper.
Arrange pumpkin pieces over the tray, drizzle with oil then bake in oven for 45-50minutes.
Cook quinoa whilst pumpkin is baking by placing quinoa, turmeric, celery and 1-cup water in a small saucepan, cover and place on medium to high heat and bring to boil.
Reduce heat to a simmer, and cook 10 minutes, uncovered, or until tails of quinoa show.
Remove from heat, fluff with a fork, cover with lid and set aside.
Once pumpkin is cooked, arrange on large serving platter and top with quinoa, kale, coriander and mint leaves, Spanish onion and pepitas.
Season with sea salt and black pepper. Drizzle with dressing and then serve.