Mouth-watering watermelon recipes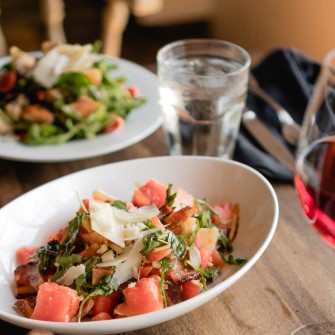 When the sun's out, nothing can beat a sweet and juicy watermelon as a thirst-quencher or a yummy treat! A quintessential summer fruit, watermelon is rich in electrolytes and water content and is just the thing to quench a heat-induced thirst.
The round up on watermelon
A great source of anti-oxidants, watermelon is rich in both vitamins A and C – essential for optimum eye health and increasing immunity against infections respectively. Not only that, watermelon contains lycopene, a powerful antioxidant that can help reduce the risk of cancer and keep our heart healthy. Plus, at 92% water, it's an excellent option for hydrating little (and big) people on the go.
If you're feeling inventive we've got some new ideas for how to transform the humble juicy watermelon into a delicious and creative snack.
Breakfast watermelon chia pudding
Ingredients
¼ cup chia seeds
1 cup coconut milk
½ tsp. vanilla extract
1 cup watermelon, diced
Honey
Method
Place chia seeds, vanilla extract and coconut milk into a mason jar. Stir to combine and refrigerate overnight.
Add diced watermelon when ready to serve. Drizzle with honey.
Watermelicious prawn tacos
A unique, sweeter taco option great for a lunch-time gathering in the sun.
Ingredients
Grilled Prawns
20 peeled green prawns
2 finely chopped garlic cloves
Juice of 1 lime
100ml olive oil
Salt and pepper to season
Salsa
4 cups chopped watermelon
½ medium red onion, finely chopped
1 finely chopped birds eye chilli
Juice of 1 lime
Salt and Pepper to taste
8 corn tortillas
Lime wedges to serve
Method
Combine olive oil, lime juice and garlic in a bowl. Add prawns and marinate for an hour.
Combine salsa ingredients in a bowl and refrigerate until required.
Heat a grill pan on medium-high. Once heated add prawns and cook until slightly transparent.
Serve deconstructed with corn tortillas and lime wedges.
Mouth-watering melon pizza
Looking for something to nibble on that isn't a hot and cheesy savoury pizza? The watermelon pizza is the simple, no-carb pizza option that sure to satisfy anyone with a sweet tooth!
Ingredients
Large watermelon slice, keeping original diameter, cut 1inch thick
Fresh figs, sliced
5 slices of proscuitto
1 tbsp. honey
½ tsp. vanilla essence
½ cup ricotta
Fresh mint and healthy seed of choice (e.g. chia or flax) to garnish
Method
Mix ricotta and vanilla together in a small bowl
Spread mixture on top of watermelon slice and top with prosciutto, sliced figs, mint and healthy seed of choice
Drizzle honey on top and cut into slices. Serve immediately.
Watermelon coconutty ice cream
A delicious way to create your own dairy-free ice cream, the best part about this recipe is that no ice cream machine needed! Keeping it simple has never tasted so sweet.
Ingredients
1 ½ cups cubed watermelon
1 can coconut milk
5 large seedless dates
2 cups frozen mango pieces, diced
1 tsp. vanilla extract
Method
Blend watermelon, coconut milk, dates and vanilla extract in blender and transfer into a cake pan
Place in freezer until hardened (3-4 hours)
Remove and break frozen mixture into chunks and re-blend with added mango pieces until desired consistency
Transfer to large bowl and freeze for an extra 30 minutes. Ready to serve