Starting or expanding your family is an exciting stage of life, but for many expectant parents it can also be an overwhelming time. Ensuring parents have the right support and knowledge available to them during this time means we can aim to build strong families and therefore healthier communities.
Suzanne Higgins has a nursing background including mental health and maternal and child health. She is well known in Geelong and the Colac-Otway Shire for her work with St John of God Raphael Services.
Suzanne studied 'first time parent couples combining parenting and paid work' for her doctoral thesis and completed a Master of Mental Health (Perinatal and Infant) in 2011. She is passionate about supporting families during this life stage and feels privileged to share part of their journey. Her area of expertise is in working with both men and women during the perinatal phase who may be experiencing anxiety, depression, grief, significant distress and/or birth related PTSD.
What is perinatal and infant mental health?
Put simply, perinatal refers to pregnancy and, generally, the first 12 months after the birth. Perinatal and infant mental health is about the link between the psychological wellbeing of parents and infant development, each defining, influencing and impacting on the other.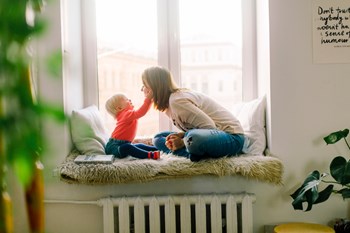 Infants don't need perfect parenting but they do need 'good enough' parenting, an approach coined by Donald Winnicott. In fact, Dr Ed Tronick notes that, being consistent 30 per cent of the time is enough. A little bit of adversity can build resilience, while more significant problems can have lifelong impacts for developing little people. In my 15 years of working in this field I've found that most parents want to be the best parent they can be for their child. But, sometimes factors such as their own mental health get in the way of achieving this goal.
More research is starting to uncover that pregnancy and early parenthood is a time of increased risk for mental health problems to arise. According to Perinatal Anxiety and Depression Australia (PANDA), one in five expecting or new mums and one in 10 expecting or new dads experience perinatal anxiety and depression.
Pregnant women often won't seek help because they are trying to manage on their own and are hopeful that things will improve. Or they are being told that it is 'just hormones'. If they do seek help after their baby is born, looking back and reflecting will often reveal that the decline in wellbeing commenced during the pregnancy.
Australia is leading the way in terms of research into mental health of parents, reducing stigma and in delivering services to support parents during this very important time. beyondblue is a key contributor to this forward thinking, with a major study led by Dr Anne Buist identifying the very high rate of mental health symptoms in pregnant women.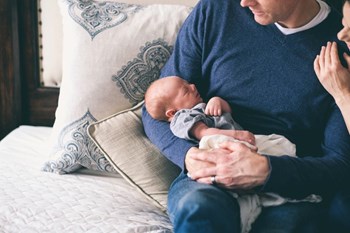 Traditionally, men aren't as open to seeking support when they need it, which means research and services to support the mental health of fathers is not yet as advanced. Thankfully, things are changing in this space, with men starting to play a more visible role throughout the pregnancy, childbirth and early family life. Some great programs available to support fathers including SMS4Dads, educational information by PANDA (How is Dad going?) and Mensline mean that men can access information in ways that is more 'dad friendly'.
While there are risk factors for perinatal mental health challenges that may be common to all families such as sleep disturbance, adjusting to life with a baby and financial pressures, there are also risk factors for some families that may make the transition to parenthood more challenging. For example, same sex couples may experience social isolation, particularly if their relationships with extended family are already difficult, or have undergone IVF in order to conceive, or if they experience intrusive curiosity from community members around the conception of their baby or discrimination and judgmental health care.
How does the mental health of a parent affect the child?
Being a parent is an experience to be cherished and enjoyed. Having a baby can be a time of great highs, but also significant challenges. According to the ZERO TO THREE Foundation the first three years of a baby's life sets the foundations for their social, emotional, cognitive, physical and mental development. Any factors, including parents' mental health, that interfere with a child's development during their first 1000 days may have a long-lasting impact.
When I meet pregnant women who are feeling less emotionally balanced than they expect, we talk about what we can do to ensure they are in 'the best emotional shape possible' to parent their new baby. Not all women will need professional help; having a trusted and non-judgemental support network of family and friends to talk to may be enough to help them regain their balance. Other women may benefit more from seeing a professional counsellor to talk through their concerns, feelings and symptoms, along with learning strategies to help manage symptoms. Sometimes talking therapy isn't enough and seeing their GP for further assessment and management is essential. Seeing a GP, midwife or obstetrician is a good first step for pregnant women who are concerned about their mental health.
During the postnatal phase after the birth, it is important for parents to consider the addition of practical support once the baby arrives. Getting enough sleep, getting a break from baby, support with feeding baby and assistance in developing the new knowledge and skills in the early weeks and months are all important factors to consider.
New fathers may also be challenged by concerns about providing for their family, supporting their partner if they're struggling more than the couple expected, dealing with physical factors like fatigue, getting used to the new family member and even receiving too much (well-meaning) advice. Again, supportive family and friends can be enough, or it may be necessary to seek further information from a GP, maternal and child health nurse, midwife or other trusted health professional.
Self-care strategies for both men and women include maximising sleep and rest, eating a healthy diet, exercising on a regular basis, practicing mindfulness and relaxation, regular social connection, setting realistic expectations of self and others and speaking to professionals about how you are coping. Remember, don't be too hard on yourself, we're often our own biggest critics. Try to think about the advice you would give a good friend finding their way as a new parent and follow it yourself.
Many mothers and fathers will seek information and advice, but with so much at their fingertips, knowing where to start (and stop) can be a challenge. Many people suffer from what I call 'Google-itis' and often I will suggest going to just one or two reputable, evidence-based, Australian websites for information.
Some websites I suggest include:
The Centre of Perinatal Excellence offers practical information to help you work through becoming and being a parent.
www.healthyfamilies.beyondblue.org.au
Resources for all the stages of family life – pregnancy and new parents, pre-schoolers, children and teenagers.
A free mindfulness meditation app by Smiling Mind to help individuals and couples with their mental and emotional wellbeing in preparation for birth and parenthood.
The Australian parenting website delivers the latest information, translated into everyday language, to help parents and carers make decisions that work for them in their individual family circumstances.
https://www.sms4dads.com/Resources.aspx
Provides new fathers with tips, information and links to services to help them understand and connect with their baby and support their partner.